The CarbonNeutral Protocol
3.1 Approved emission reduction strategies and/or targets
Purpose
This section specifies which internal abatement strategies and/or targets must be in place for entities with annual footprints over a certain size (as defined by the CarbonNeutral company certification)
In order to receive a CarbonNeutral® certification (including entity, product or activity certifications), clients with annual company footprints over 100,000 tCO2e must have set one of the approved emission reduction strategies and/or targets set out in Table 17. This applies even if the subject of the certification is less than 100,000 tCO2e.
From 2024 onwards, the threshold will reduce by 10,000 tCO2e each year to 10,000 tCO2e by 2032. This requirement is in place to ensure that organisations with increasingly smaller carbon footprints have put in place robust abatement strategies, to support credible climate-related claims.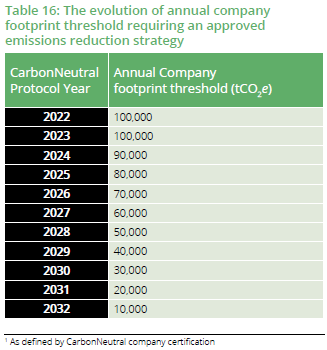 These strategies and/or targets must be specified in the client's CarbonNeutral® Certification Target and Reduce Form (see Technical Specification 3.2).
This Technical Specification is reviewed annually to ensure it reflects developments in best practice and the performance of internal abatement initiatives.

Table 17: Approved Emission Reduction Strategies and/or Targets