The CarbonNeutral Protocol
We are pleased to present this 2020 edition of The CarbonNeutral Protocol. First developed and published in 2002, The Protocol is revised and updated annually to reflect developments in climate science, international policy, standards and business practice. It is an open source standard and guide developed for business by business that draws together leading independent standards for greenhouse gas accounting into a practical guide to carbon neutrality.
It underpins CarbonNeutral® certifications awarded by Natural Capital Partners to recognise carbon neutral organisations, products and activities, and provides a detailed framework for the design and implementation of credible carbon neutral programmes.
Preface
Since its launch in 2002, The CarbonNeutral Protocol has promoted voluntary action across the private sector. This supports reducing carbon emissions to ensure we have a stable climate, conserving and restoring a thriving natural environment, and transforming our global economy to become net zero.
Businesses increasingly appreciate the economic imperative of strong climate action, and their customers around the world are more mobilised than ever to adjust their patterns of consumption accordingly. Against the backdrop of weakening political progress, we have witnessed rising climate action through carbon neutrality amongst the world's largest businesses.
In 2018 we conducted an extensive review of the application and impact of carbon neutrality in business through seven roundtable conversations with 61 corporates, with revenues totalling over US$1.3 trillion. We found that companies are increasingly using carbon neutrality to shift climate action from compliance or corporate responsibility responses, to underpinning business strategy through the management of business risk and opportunity.
Carbon neutrality does this, in particular by establishing a price on carbon and by earning the reputational benefits from demonstrating clear action and impact. We also found that businesses are extending their attention from neutralising their carbon footprint (Scopes 1, 2 and 3) by complementing that action with four additional activities that link carbon neutrality to a net zero emission economy (See Figure 1).
Figure 1: Imprinting Net Zero
Source: Natural Capital Partners, 2018, Raising Ambition - The Role of Business in Getting to Net Zero, page 14,
https://assets.naturalcapitalp...
By also paying attention to the four 'prints', corporations adapt and extend their carbon neutral programmes to address the tougher requirements for internal abatement of emissions and a just transition. We are beginning to build evidence of the role that carbon neutrality is playing as a safe launchpad for these climate actions.
In 2019 we conducted research into the climate commitments of the Fortune Global 500. It found that 10% have carbon neutral commitments, and that this has doubled since the Paris Agreement was signed at the end of 2015.
For many, carbon neutrality is a stepping stone towards deep transformation within businesses. The research indicated that corporations with carbon neutrality goals are four times more likely to have a Science Based Target (SBT) to guide their internal abatement activities; and, six times more likely to have a RE100 commitment to 100% renewable power. See Figure 2. This is evidence of a strong correlation, and we know that carbon neutrality sets a clear, simple target to drive focus on internal abatement activities.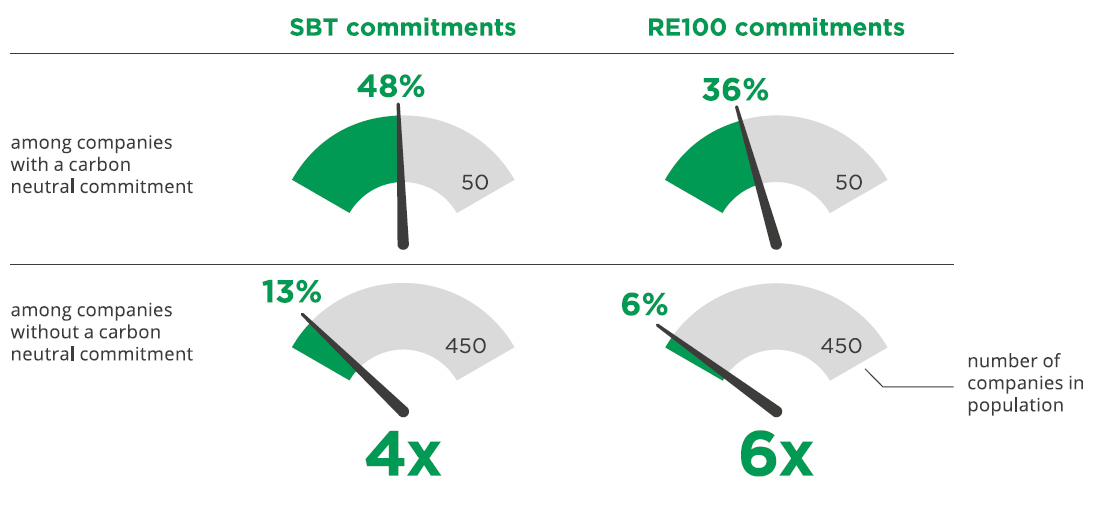 The purchase and retirement of carbon credits also creates a clear price signal to drive internal abatement action, which in turn reduces the need for offsetting. This version of the CarbonNeutral Protocol places greater emphasis on improving the evidence base of how carbon neutrality programmes drive this emissions abatement within companies.
Microsoft is a leading example. This year it certified 825,000 Xbox consoles as CarbonNeutral® products as a first step on the journey towards making its products carbon neutral – including emissions from the supply chain and use phase – having had all of its own operations carbon neutral since 2012. Microsoft imposes a 'carbon fee' on all business units to cover the costs of carbon neutrality and other sustainability initiatives. The fee is in part informed by the price of carbon credits used for offsetting. This fee drives action towards its Science Based Target of abating operational carbon emissions by 75% by 2030, and value chain emissions by 30% by 2030.
Carbon neutrality is also being used by companies to address the just transition to a stable climate. The risks and impacts of climate change and its remedies are spread unevenly across the global work-force, communities, and natural ecosystems. Care and safeguards are required to ensure we do not solve one major problem with intent, while creating many others through unintended consequences. For example, a shift from fossil fuels to renewable energy that leaves workers in the former sector without access to employment is not a just transition. Neither is a global climate agreement that fails to provide developing economies with the access to finance they need to drive low-carbon technologies and protect and enhance ecosystems that act as natural carbon sinks.
In responding to these challenges, leading companies are increasing the proportion of their carbon credits portfolios that come from mitigation projects that deliver other positive impacts against the Sustainable Development Goals.
Bettys & Taylors, home to the UK's top selling tea and fresh ground coffee brands, has made all its tea and coffee CarbonNeutral through a programme that uses carbon finance to support emission reduction projects across its supply chain in Kenya, Uganda and Malawi. Working with community reforestation and improved cookstove projects, the company is making the climate impact of its products from farm to retail shelf carbon neutral. Its programme is financing mitigation activities among smallholder farmer communities that face their own sustainable development challenges in some of the countries most impacted by the effects of climate change.
The latest UN Climate Summit COP25 in Madrid has ended with precious little progress on translating ambition into action. The Summit failed to get all countries to deliver on prior intentions to submit a new round of more ambitious national targets next year to close the widening gap between what is committed and what is required for a stable climate. Further, for the second year in a row, governments failed to agree the rules for international carbon trading, a key remaining piece of the rulebook for implementing the Paris Agreement. Strong and clear rules are critical to the growth and environmental integrity of carbon markets, which can help drive investment required for mitigation and adaptation, lower the cost of delivering deep reductions – and in doing so, enable countries to accelerate and strengthen their mitigation targets.
Despite the disappointment of the global process, the rising interest in carbon neutrality is evidence that business wants meaningful, immediate and practical action. There is growing recognition that to reach net zero emissions by 2050, the global economy's component parts, specifically businesses, must all pull their weight. Companies need to know that their individual action makes a positive and directionally aligned contribution to the global system even though the terms of global action are not yet clear. While carbon neutrality is neither a perfect nor complete solution, it is a pragmatic, impactful approach that business can deploy today in response to the urgent need for progress. We are encouraged that the use of The Protocol stimulates its users to proactively join the dots between the tactical and the transformational dimensions of the climate challenge.
Purpose
The CarbonNeutral Protocol is designed for:
Businesses and organisations – To understand what is required to develop a credible carbon neutral programme and to achieve CarbonNeutral® certification.
Technical partners – To ensure Natural Capital Partners' technical partners (e.g. GHG assessors) understand what is required of them to ensure their services are consistent with the requirements of each CarbonNeutral® certification.
The wider "Climate Action Community" – To encourage partnerships amongst business, NGOs, policy-makers, regulators and civil society to promote high standards for carbon accounting and the offsetting of greenhouse gas emissions.
The CarbonNeutral Protocol has been developed as a set of requirements to provide businesses with a single-source guide to make credible, transparent claims anywhere in the world. As third-party standards are developed, The CarbonNeutral Protocol aims to provide a framework which builds upon the best guidance in the market and offers a unifying process for making carbon neutral claims which are recognised internationally.
Principles
Three principles are the foundation for CarbonNeutral certifications:
Promote immediate action to support deeper and widespread transformation: Carbon neutrality is a voluntary action taken immediately by an entity to fully compensate for the global warming impact from its greenhouse gas emissions. Transformation to a sustainable and resilient net zero economy is accelerated by carbon neutrality as entities act ahead of and beyond regulation. Carbon neutral entities reduce emissions under their direct control and enable mitigation activities elsewhere that require finance to deliver mitigation in line with the UNFCCC's goals and contribute to the UN's Sustainable Development Goals.
Built on conservative estimation, best practice, transparency and continuous improvement: Public claims of carbon neutrality account for greenhouse gas emissions and the compensating emission reductions in accordance with best-in-class third-party standards to ensure that claims have integrity and the same meaning throughout the global economy. Entities making public claims of carbon neutrality commit to conservative approaches and to disclosing the basis (methodologies, standards, protocols) that underpin their claims.
Committed to pragmatism and impact: Achieving carbon neutrality is an actionable, understandable and pragmatic response that can be adopted by any entity to meet its climate objectives and play a meaningful role in driving carbon emission reductions across the global economy. The CarbonNeutral mark enables entities to communicate their commitment to carbon neutrality to key stakeholders so they may be recognised and rewarded for their progressive action.
The primary function of the principles above is to guide the implementation of the Protocol, particularly when the application of the Protocol to specific issues or situations is ambiguous.
Structure
The following sections sets out the requirements for achieving CarbonNeutral® certification. These requirements are set out in the Requirements sections as well as in the accompanying Additional Requirements pages.
Detailed guidance and clarification on selected topics can be found in the Guidance pages.
The term "must" is used in this document to indicate a requirement of the Protocol.
The term "must not" indicates prohibited actions. The term "should" is used to indicate a recommendation, but not a requirement.
Development
The CarbonNeutral Protocol undergoes an annual development cycle which involves input from multiple stakeholders.
Natural Capital Partners' Advisory Council is consulted on development priorities within the annual revision cycle. The development of the subsequent version takes place over the following year.
Natural Capital Partners also invites and encourages input from clients and others with an interest in carbon neutrality. Suggestions for development priorities for subsequent versions of The CarbonNeutral Protocol should be sent to Natural Capital Partners at info@naturalcapitalpartners.com.
Based upon our experience and understanding of changing client needs, developments in the market for climate solutions and guidance from our Advisory Council, material changes to The CarbonNeutral Protocol in this 2020 version include:
New: Requirement for a CarbonNeutral® Certification Form (Annex F);

New: CarbonNeutral production certification (Table 4 and Annex A);
Updated: Requirements for the treatment of aviation's impact on global warming (Appendix 2.5);
Updated: Detailed requirements for product certifications including accepted data periods for footprint assessments, and treatment of land use change and packaging emissions (Tables 3 and 5);
Updated: Approved carbon credit standards now includes certain Domestic standards (Annex C)
Relationship to other standards, protocols and broader context
The Protocol incorporates best practices in the areas of measurement and monitoring of GHG emissions and the design and certification of emission reduction projects. Concerning GHG measurement, the Protocol is aligned with the GHG Protocol Corporate Standard (including the separate Guidance on Scope 2 and 3 accounting), GHG Protocol Product Standard, Environmental Product Declarations and the principles of the BSI PAS 2050 standard for products and services.
The Protocol recognises the importance of taking action that is appropriate and proportionate to the range and scale of a client's sustainability impacts. CarbonNeutral® certifications by definition are focused on climate impacts. However, clients should assess their material environmental, social, and economic impacts and take action appropriate to related impacts. Clients should use internationally recognised management standards, appropriate to the scale of their impacts, to identify and manage their key impacts. Such management standards include but are not limited to the ISO 14000 and ISO 9000 series.
Use, legal disclaimer and copyright
The CarbonNeutral Protocol should be applied in conjunction with relevant terms and conditions on the use of logos, marks and trademarks owned by Natural Capital Partners, as specified in contracts with Natural Capital Partners.
CarbonNeutral® certifications made in accordance with previous versions of The CarbonNeutral Protocol are not retroactively affected by subsequent changes to The CarbonNeutral Protocol.
CarbonNeutral® is the registered trademark of Natural Capital Partners. The copyright notice displayed in this document indicates when the document was last issued.