2.8 Using environmental product declarations (EPDs) for CarbonNeutral® products
The 2014 revision of The CarbonNeutral Protocol introduced Environmental Product Declarations (EPDs) as an alternative way to demonstrate achievement of Steps 1 and 2 of the CarbonNeutral® certification process for products. Step 1 covers the definition of the subject and Step 2 covers measurement of the subject's GHG emissions.
An EPD is a type III environmental label declaring the environmental impacts of a product over its expected life. EPDs can be thought of as the environmental equivalent to nutrition labels for food products, stating a product's carbon footprint and other environmental impacts such as resource depletion, acidification, and eutrophication. It is a comprehensive, voluntary, internationally recognised report that compiles and standardises technical LCA information, eliminating the need to contend with numerous individual documents.
Figure 6 demonstrates how the integrity of EPDs is established by the application of a variety of third- party standards and processes:
The ISO 14025 standard establishes the principles and specifies the procedures for developing type III environmental declaration programmes and type III environmental declarations, specifically EPDs
The ISO 21930 standard establishes the principles and requirements for type III EPDs of building products
The EN 15804 is a European standard that provides core Product Category Rules (PCRs) for type III EPDs for any construction product and construction service
PCRs describe the harmonised LCA-rules for data collection, methodology, calculations and presentation of the results for a specific product category such as pre-fabricated buildings or leather footwear. PCRs are developed in accordance with ISO 14025, and additionally with ISO 21930 and/or EN 15804 for construction products
LCAs are based upon the parameters set out in ISO 14025, ISO 21930 and EN 51804, and should also be compliant with the ISO 14040 series of standards. The measurement of the carbon footprint should follow the ISO 14067 (the Technical specification for GHGs — carbon footprint of products — requirements and guidelines for quantification and communication)
Transparency is a key component of EPDs, and upon completion, all EPDs should be publically registered with an EPD programme operator, in addition to being independently verified
Programme operators are responsible for maintaining type III EPD programmes, and establishing procedures for the development of Product Category Rules and EPDs
Figure 6: Establishing the Integrity of EPDs

Given the rigour applied to the development of PCRs, the strict requirements of ISO LCA methodologies and the need for independent third-party verification, The CarbonNeutral Protocol recognises that EPDs provide robust, high quality GHG measurement outputs.

There may be minor differences in requirements of The CarbonNeutral Protocol relative to an EPD. EPD product category rules for any given subject will by definition be more relevant to the subject than the general requirements of The CarbonNeutral product certification. Therefore, where there are differences, the EPD prevails and is deemed to have met the requirements of The CarbonNeutral Protocol. Table 15 explores some of these requirements in more detail.
Table 15: Comparison of Requirements Between The CarbonNeutral Protocol and EPDs for CarbonNeutral® Product Certification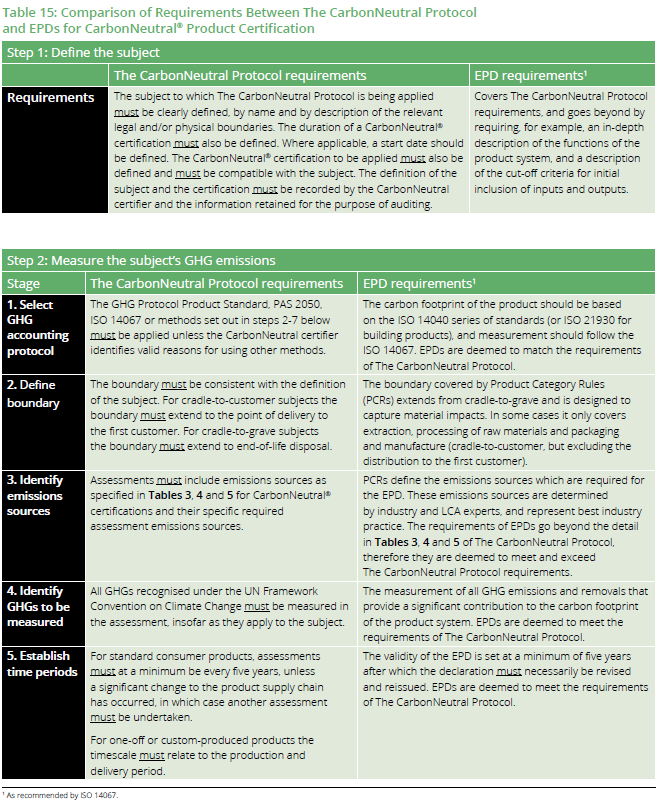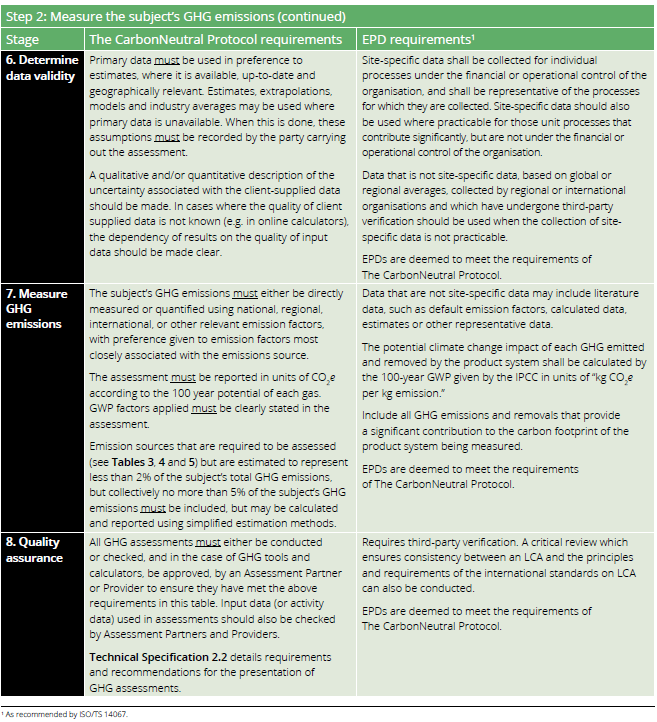 Requirements for a CarbonNeutral® compliant EPD

The EPD must be developed using a suitable PCR which follows ISO 14025 guidelines, and additionally with ISO 21930 and/or EN 15804 if used for construction products
The LCA must conform to the ISO 14040 series of standards
The EPD must be validated by an independent, qualified third party to ensure it has met the necessary requirements

Figure 7: Determining if GHG Emissions Assessments Meet the Requirements of The CarbonNeutral Protocol