5
Communicate
Building on more than 50 years of pioneering sustainable winegrowing in California, Fetzer Vineyards is working to implement a regenerative strategy that goes beyond sustainability to operate ways that restore, revitalise and regenerate ecosystems and communities, while producing premium quality wines, advancing the health and well-being of employees, and producing sustainable growth for shareholders. In 2015, Fetzer Vineyards became the largest winery in the world to receive B Corp certification from the non-profit B Lab. B Corps are for-profit companies that meet rigorous standards of social and environmental performance, accountability and transparency. In 2017, Fetzer Vineyards formally incorporated its sustainable ethos into its legal structure, becoming a Benefit Corporation in the State of California. Benefit corporations are for-profit businesses that are legally bound to place stakeholders, including workers, the community and the environment, on an even playing field with shareholder profits. This important step paves the way for Fetzer Vineyards to continue working towards creating positive impacts on people, communities, and the environment.
Internally, Fetzer Vineyards communicates its sustainability in part through its "RE3" team, (Restore – Revitalize – Regenerate), a cross-departmental group that meets monthly to develop sustainability-focused initiatives and share ideas for engaging employees in varied sustainability efforts, including wellness training, coordinated volunteer programmes, and cultivation of an onsite organic vegetable garden.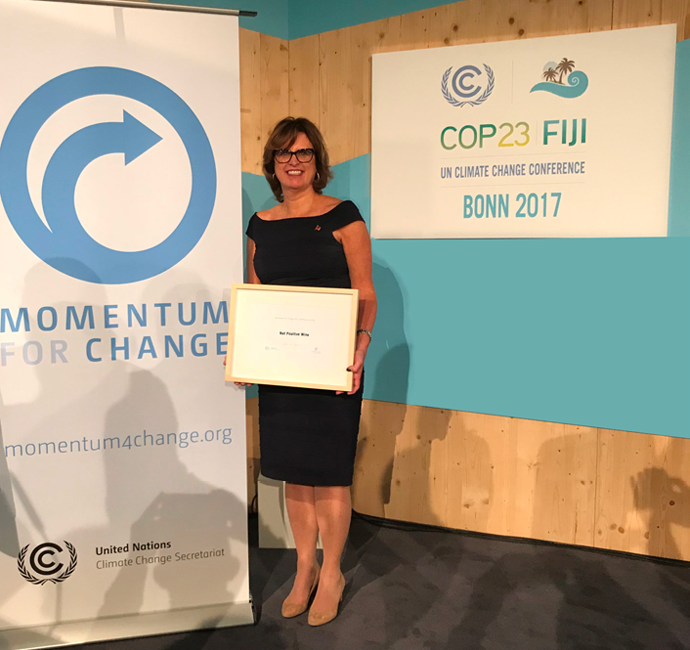 In 2017, the company was among 19 global recipients of a United Nations "Momentum for Change Award" for its climate-smart practices. Fetzer Vineyards' COO Cindy DeVries received the award at the UNFCCC's COP23 meeting in Bonn from astronaut Tim Peake.