5
Communicate
CarbonNeutral certification is an integrated part of Sky's campaigns to build consumer awareness and action on climate change and the environment.
2006 – The Bigger Picture campaign which included a 'Cool as a cat' advert and communications on its van fleet about the company's CarbonNeutral certification.
2009 – Sky Rainforest Rescue, a campaign which successfully saved one billion trees and brought deforestation to the attention of more than seven million viewers through programmes such as Battle for the Amazon. Sky worked with Natural Capital Partners to deliver emission reductions through forestry projects, including Acre in Brazil and Rimba Raya in Indonesia.
2017 – Sky Ocean Rescue and campaigns to eliminate plastic waste. Sky worked with Natural Capital Partners to set up a new project to prevent 8,000kg of plastic waste entering the Seruyan River in Indonesia on the site of Rimba Raya, one of the offsetting projects it supports. Five lead waste collectors in each of the 14 main villages along the river were supported through the project, while key transport links have been established to carry the plastic to recycling facilities.
2020 – Sky set a new target to reach net zero by 2030. On the path towards that, it continues to be a CarbonNeutral company and all productions in the UK are CarbonNeutral from 2019.
2021 – Sky Glass's CarbonNeutral product certification was a central pillar of the communications around its launch in September. This came just ahead of when Sky's climate action took to the global stage, as it was principal partner and media partner to the UNFCCC's COP26 in Glasgow.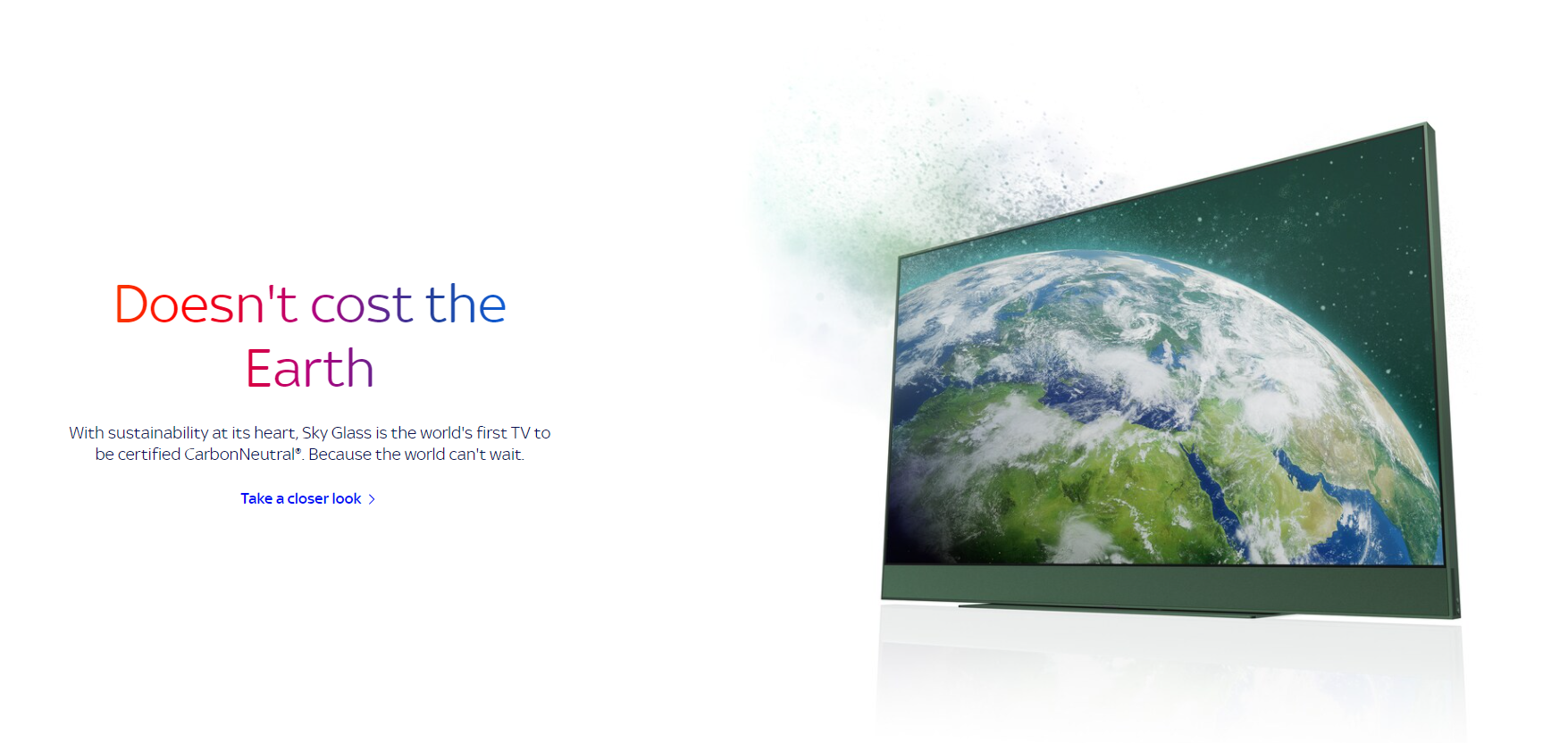 Sky communicates the Sky Glass's CarbonNeutral product certification to customers and the wider public.