Few would question that we are now in a race against time. In the last year alone, the evidence continues to mount about the impact of climate change and the toll it is taking on the planet, and on lives and communities. An abstract understanding of climate in terms of parts per million and fractions of degrees has been supplanted by more tangible evidence: habitat and species loss, extreme weather events, and human health impacts, among others. In 2018, CDP calculated the effects of climate change to cost business $1 trillion over five years (CDP, 2018, Global Climate Change Analysis 2018).
In response, business is seizing on this moment, turning risk to opportunity. For the second year in a row, we tracked climate commitments among Fortune Global 500 companies (Climate Impact Partners, 2020, Response Required). Since the Paris Agreement in December 2015, corporate climate commitments have increased five-fold. 30% of leading companies have now made at least one public commitment to carbon neutrality, net zero, RE100, or the Science Based Targets initiative (SBTi) by 2030. Those that have yet to take action are only at greater risk.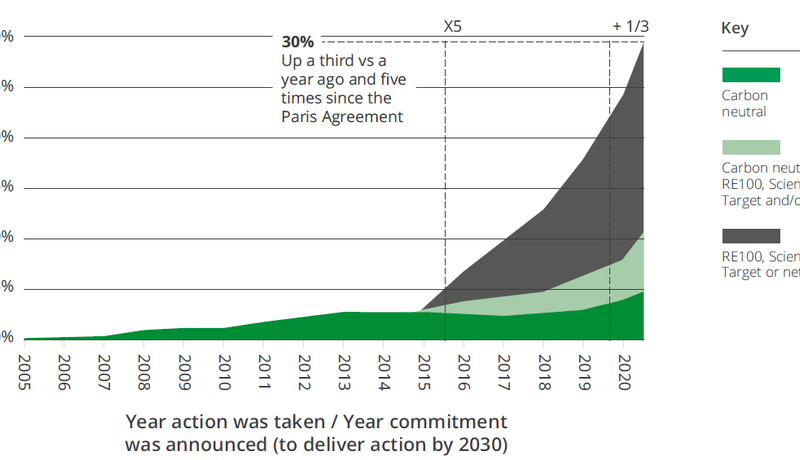 Figure 1: Percentage of Fortune Global 500 companies that have made a public commitment that they are, or will be by 2030: carbon neutral, meeting an RE100, Science-Based Target, or net zero target
When time is of the essence to tackle climate change, carbon neutrality is a proven strategy for corporate action. The benefits are immediate, both for the business and for the climate. In the last year, companies including Kaiser Permanente, Oliver Wyman, and HP have joined the ranks of companies such as Logitech, Bain & Company and Sky, leading their industries with CarbonNeutral certification.
For nearly two decades, The CarbonNeutral Protocol has played a critical role in enabling our clients to confidently make clear and credible claims and navigate the complicated and fast-moving voluntary carbon market.
The role of business is clear. The United Nations has named this the Decade of Action (United Nations, 2019, Decade of Action) for us to deliver on the Global Goals, and business is proving to be one of the most effective and reliable levers for change, contributing innovation, finance, and ambitious commitments. While the Paris Agreement appears to be difficult to implement and the global coronavirus pandemic has further stalled progress, companies show no sign of relenting, filling a vacuum while sending a strong signal to policymakers that we cannot delay.
Carbon finance is increasingly recognised as a vehicle not only for climate action, but for sustainable development broadly. Corporate buyers are choosing to do more than simply offset their emissions, focusing on projects with attributes that align with their values and deliver value to communities and ecosystems. The Rimba Raya REDD+ project in Indonesia, which avoids destruction of forest coupled with livelihood programs that provide education and employment, became the first project to register to Verra's Sustainable Development Verified Impact Standard (SD VISta) by advancing all 17 Global Goals.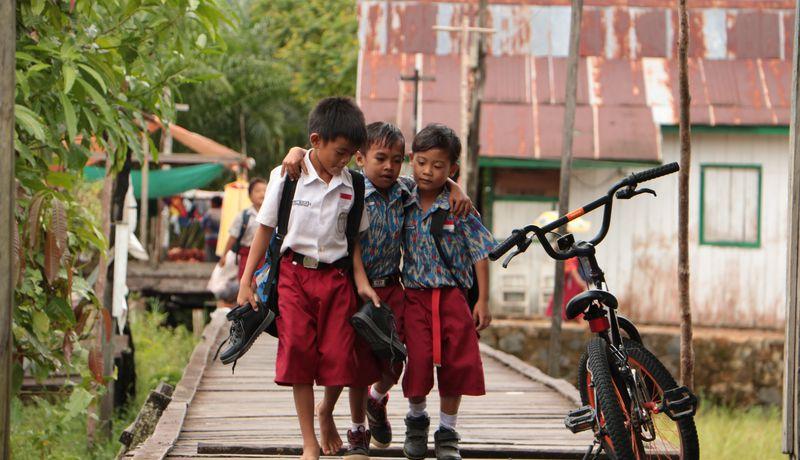 Image: Rimba Raya Biodiversity Reserve REDD+, Indonesia: The project has established a scholarship fund to enhance educational access and provide writing books

Recognising that we need all the solutions available: including carbon finance projects to avoid emissions, reduce them, and remove them, several new initiatives have launched in 2020 to drive impact at scale. We are participating in groups led by EDF, ISO, IETA and the Climate Registry, to contribute our experience and to ensure we continuously improve The Protocol, making it a practical and valuable resource in designing and delivering on corporate sustainability strategies.
In addition, we are part of The Taskforce on Scaling Voluntary Carbon Markets, led by Mark Carney and Bill Winters, one of the highest profile efforts to help companies and investors leverage the market to grow exponentially—building on 20+ years of voluntary action to advance international climate goals. The SBTi, meanwhile, issued new guidance on achieving net zero targets and the role of offsetting in getting us there, detailing how 'compensation' measures using projects which avoid and reduce emissions are part of the transition to net zero and its focus on 'neutralisation' through removals projects.
Carbon neutrality is increasingly recognised as a pragmatic and accessible tool for the ambitious. It is deployed by organisations which seek to complement longer-term, science-based abatement targets by financing emission reductions beyond their operational control which accelerate progress towards a net zero global economy. That financing uses the voluntary carbon market to find and support mitigation projects that also deliver against the Sustainable Development Goals.
While we enter 2021 with unprecedented uncertainty, we know the challenges and opportunities we face in driving climate ambition. Entering its 20th year and updated annually to reflect the latest industry best practice, The Protocol will continue to evolve in order to provide business with an invaluable tool for action.
This article was written to mark the launch of the 2021 CarbonNeutral Protocol and is taken from The Protocol's Introduction (page 17).